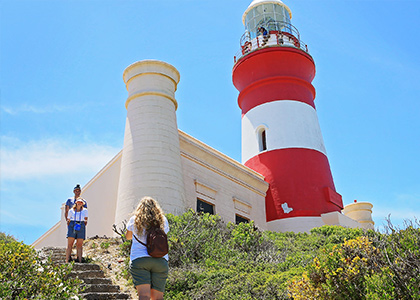 One of the main attractions to L'Agulhas is most certainly the Cape Agulhas lighthouse. So, my husband and I recently visited the town to make our way to the top of the red and white candy-striped lighthouse.

I stop counting (the very) steep steps after step number 55 and started to concentrate on my breathing and not to fall backwards. But they (the step keepers) assured me there are 71 steps to the top! The weather played along nicely and the views were spectacular, although the wind was terrifying at the top of the lighthouse.

So the construction of a lighthouse at Agulhas was requested in 1837, and built in 1848, to serve as a navigational aid to help prevent (reduce?) accidents and assist distressed mariners when they do occur.
It was the third lighthouse to be built in South Africa, and the second-oldest working lighthouse, after Green Point.
The lighthouse was modelled on the Pharos of Alexandria and designed in the Egyptian Renaissance style that is thought to be unique amongst world lighthouses.
The 11 million candlepower beam of the L'Agulhas lighthouse can be seen shining over the dark ocean for 30 sea miles on a clear night.
For the next stop, follow the gravel trail road next to the lighthouse via the coastal fynbos of the national park to a new wheelchair-friendly boardwalk that leads to the southernmost point where the Indian and Atlantic oceans meet.
After posing for the obligatory photo at the stone beacon to show you exactly where the special place is where the two oceans meet, follow the deck pathway that leads from the existing beacon to the newly erected southernmost top monument.
Here, a structure consisting of a low-walled circle (representing a compass) with a map of Africa in the middle, was design and constructed. The raised profile of the African continent is 18m from north to south, with the equator and the tropics clearly marked on the map.
The more adventurous visitors can do the Spookdraai (Ghost Corner) Hiking Trail. This 2 hour circular route is suitable for all fitness levels and starts and ends at the entrance to L'Agulhas. A must if you have the time.